NBA player Yuta Watanabe is unbreakable. The third-year forward's unwavering mindset is something he has achieved through his career, but he also had his fair share of doubts—like when he became a free agent last August as his two-way contract with the Memphis Grizzlies ended.* Unable to find a new team, he spent his offseason not knowing if he can still continue his basketball career in the NBA. "To tell you the truth, those couple months were really stressful. I couldn't perform as well as I'd imagined in the two years with the Grizzlies, so I was worried that I'd run out of chances. I felt insecure every time people asked me 'What would you do next season?' because I just couldn't give them a clear answer. I know they cared about me, but it was hard."
Just like anybody else, Watanabe had difficulty dealing with an unpromised future. He was standing at a crossroads, where one's destiny depends on the choices one makes. "I realized that sitting around and worrying about the future won't make things any better, so I decided to spend the offseason focusing on the things that I could still do. I went back to Japan and spent quite a bit of time with my family, but also kept practicing. And by the time I got back to the States and practiced in L.A., I was on a roll. Staying in practice has enabled me to gradually gain back my confidence and I began to feel optimistic, that things might go in the right direction if I had the chance."
Watanabe never lets success get to his head, which is how he keeps his chin up even when things are going south. When asked about how he holds himself together like that, he revealed that he maintains a habit of taking an objective look at himself. "I sometimes analyze myself from a third-person perspective, and I could see that I was improving. I noticed how well I played in the pick-up games with other NBA players. Which is why I wasn't feeling down—well, not that I had much emotional leeway either. In a way, I was able to concentrate on doing what I had to do because I had no other choice."
Immersing himself into practices was perhaps what led him to the Toronto Raptors—the team where he currently belongs. He was first invited to participate in their minicamp, where he played among other players in front of the coaches for three days. It was practically a tryout. "It helped a lot that I was invited to the minicamp before their training camp, because I could show them who I am and my basketball style. But since I only got a training camp contract, I was worried what would happen next if I couldn't make the team. But as I practiced in their training camp, I thought that maybe, I'll make a good fit for this team—and by the end, that feeling became stronger, more like certainty. The team had no open roster spots, so I wondered if they'd go so far as to drop one of their players to sign me up, but I had a feeling that I'd make the team if they did have an opening. Everything came down to how well I could perform in the time that I've got."
Soon afterwards, the Raptors cut one of their players and signed a two-way contract with Watanabe.** It is the same contract he had with the Grizzlies, but it felt completely different this time. Especially after his second year with the Grizzlies, when he was often substituted into the game after it was obvious which team would win or lose. And every time that happened, he felt as though the team did not really need him. But with the Raptors, the team went out of their way to open up a spot for him so that he could stay. They chose Watanabe. He belonged there, and it was time for him to show his true ability.
The shift from "being influenced" to "having influence"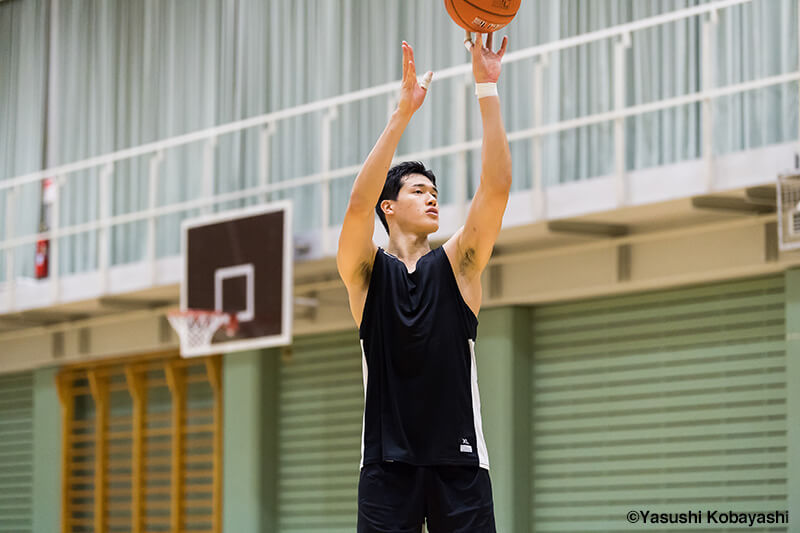 Watanabe keeps himself together even when public attention can sometimes get overwhelming—like when he was "posterized" in the game against the Minnesota Timberwolves on February 19th. "Posterize" is a popular slang term when one player dunks a ball over another player in such an iconic way that it might as well be a poster.
In this game Watanabe was on the receiving end of an incredible dunk by Anthony Edwards, the No. 1 pick in the NBA draft last year. The jam went instantly viral across social media, along with the name "Yuta Watanabe". While Edwards was widely praised, there were also comments that taunted Watanabe. "Although it pains me to say this, it was the most amazing dunk I've ever seen in my entire life. Obviously, everybody would talk about it," Watanabe said with a dry laugh. He knows by experience that playing basketball in the U.S. means that other players slam dunk over you all the time.
A few days later, in a Zoom press conference when he was asked about the dunk, he responded as follows. "For me, I had no choice but to try and block that dunk. I'd rather get dunked on than let an opponent have an easy two points. These days, most players avoid those situations for fear of public attention on social media. But that's not why I'm here and if I do that, I'd feel like I don't deserve to be here or get any playing time. If the same thing happens to me in the future, there's no doubt that I'll jump again and try to block it no matter what. Even if I get dunked on 99 times out of 100, I'll always go for that ball if I can block one." Watanabe's perfect response also spread across the internet, touching the hearts of many and garnered wide acclaim.
In the age of social media, high-profile people are easily exposed to thousands of viewers. In a matter of seconds, anyone can be a hero or a loser—which can be quite nerve-wracking. Why did Watanabe choose to talk about it instead of letting it go?
"My intention was to tell those people who care about me that I'm alright. The criticisms and mockery don't bother me at all. Getting posterized was the result of how I chose to play at that moment so in my point of view, I have nothing to feel down about because I own it. Which is why I wanted to explain to my fans and friends that they have nothing to worry about." Meanwhile, his fellow Raptors laughed it away right after the game by fooling around and reenacting the poster dunk. Watanabe recalls how he was thankful for how they responded. "It would've been worse if they'd sympathized with me. Because they made a joke about it, it felt like I was truly a part of the team, and that's why they didn't care about trying to be so considerate. And I'm grateful for that."
Although Watanabe appears to be a natural at keeping himself together, he confesses how he was easily influenced by others in the past. "Letting other people's opinions get to me is one of the things I've overcome, because I'm no longer influenced by them. Instead, I'm getting the sense that I've reached a point in my life where I'm the one who has an influence over others. Which is why all that negativity and criticisms from people I don't even know don't bother me that much."
Staying in shape despite a busy schedule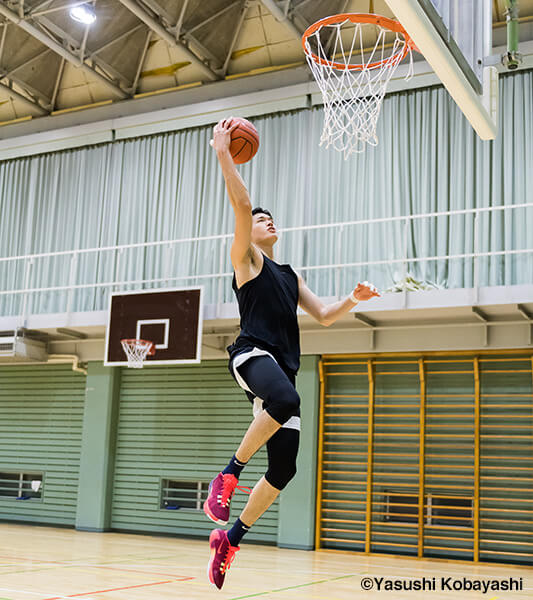 Watanabe developed a mental toughness in the eight years since he came to the U.S., while he also trained himself to bulk up. It showed when he played on the court, as he has increasingly become a threat against big men under the basket. "I've been getting more rebounds this season because I've improved my physical strength. When you're trying to box out but you don't have the muscle, it's pretty hard to make a jump for the ball when your opponent can push you away. But because I now have greater muscular strength, I've been able to secure rebounds and block more shots."
In his third year, it is also worth mentioning that Watanabe is getting used to playing in the NBA. "The higher the level I reached in basketball through my years of playing in the U.S., the stronger my body got. I'm better used to enduring physical contact now, like staying on my feet in situations where I couldn't before."
Compared to college basketball, there are more than twice as many games per season in the NBA. Teams not only manage to play slightly over three games a week, but they also constantly travel across the country, while expected to maintain their optimal physical condition. On top of that, the league has provided them with updated guidance and restrictions this season due to COVID-19. Eating out is not allowed, and while on the road players mostly eat room service meals, of which their menus are specially slimmed down to prevent players from accidentally consuming prohibited substances in the professional athletic world. Which is why Watanabe takes Sun Chlorella 'A' powder as a way to get the nutrients that he might otherwise lack. "We're constantly thinking about what to eat when our options are pretty limited. Sun Chlorella 'A' powder has helped me get the essential nutrients my body needs, making up for the vitamins and minerals that are difficult to get enough from foods alone. Whether at home or on the road, I always take the supplement to maintain my health. In the NBA we usually play a game every other day and we also travel a lot, so we consume a lot of energy. Maintaining a proper recovery routine is vital to stay in peak shape."
Watanabe also cares about eating foods that have a positive effect on his body as an athlete. He has been managing his diet for seven years now, since he first became aware of it while he was a student at George Washington University. "I remember how in my freshman and sophomore years, eating well was something I made myself do, but now, I no longer have the desire to eat foods that are unhealthy."
What matters to him more than making the starting lineup?
Watanabe is gaining new experiences this season. For instance, in the game against the Detroit Pistons on March 3rd, he was included in the starting lineup for the first time in his career and became the second Japanese player to be a starter in an NBA game. Many fans were thrilled to hear this news.
Watanabe, on the other hand, is surprisingly nonchalant about it and explains how he doesn't particularly feel a sense of accomplishment. "It doesn't matter to me whether I'm on the court or on the bench when the game starts. In that sense, that game didn't feel particularly special nor did I feel like I achieved something. In hindsight, I wish I could have performed better since they chose me to be in the starting lineup. I care more about being a player who leads my team to victory in a win-or-lose situation. If I could play like that, then that would mean something to me and I'd feel like I've reached new heights."
The game that most resembled the situation he describes was the one against the Sacramento Kings on January 29th. The game was neck and neck, and Watanabe played on the court until the end. With only one minute and eight seconds remaining, he even scored a basket which brought the Raptors to only a single point behind the Kings. But unfortunately, the team lost. It was so close. "That game, for me, was really disappointing. The team let me play until the end, I scored a shot in the critical final moments, I played good defense—but still, we lost. Whether or not I could bring our team to win in that situation would've determined if I've taken another step forward as an NBA player." Watanabe keeps his head on straight and continues to give his best—not because he cares about how the world sees him, but to feel proud of his performance someday.
A message from Yuta Watanabe to youth basketball players
Lastly, here is a message from Watanabe to youth basketball players who have endured frustrating times during this pandemic. Watanabe's mental toughness is something that we can all learn from, and we hope that his message would encourage future generations to continue pursuing their dreams.
* * *
We aren't allowed to go inside basketball courts until our covid test results come out negative, so there were days when I couldn't practice as much as I'd wanted to. You must be going through that same frustration too. But always remember that you are not alone, that people all over the world are doing their best to keep looking forward and pull through. The more we have to endure hardships, the brighter our future must be. So, focus on the things that you can still do, and when the world returns to how it used to be, bring all that energy you've been saving into the court and enjoy playing basketball again.
(March 2021)
* * *
*A two-way contract is a contract that allows players to play for both the NBA and the G League. Traditionally, two-way players are only allowed a certain number of NBA games to play per season, and are ineligible to play in playoffs. However, due to the coronavirus pandemic, they are allowed to play unlimited games as well as to play in playoffs this season.
**The Raptors have signed a standard contract with Yuta Watanabe on April 19th, promoting Yuta Watanabe to their 15-man roster.