In December 2021, Hirano was called up to join the Abbotsford Canucks, an AHL affiliate of the NHL's Vancouver Canucks. Since his initial contract had an upper limit of 25 games, he renewed his contract in the middle of the season–to the same terms and conditions: a professional tryout contract. This form of contract can add quite a bit of pressure to some athletes, since the team can release the player at any time depending on their performance. Hirano, however, chose to agree to those conditions once again and used them to fuel his motivation. "I chose to think of it as a good thing, that the tryout contract is why the front office and coaching staffs are watching me closely and trying to determine my worth, and that if I continue doing well, their evaluation of me only becomes higher. That's how I kept going, sticking to a positive mindset to stay motivated. Because if I wanted to stay, the best way to make them believe that they need me is through my performance."
As Hirano continued to play well in the AHL, people around him also began to look at him more positively. Hirano has shared how he has become good friends with his former teammates, but he felt that professional ice hockey in North America is very competitive, a world where athletes are determined to rise to the top even if that meant stepping on others. And eyes directed toward newbies are always unwelcoming. "At first, some people looked at me like, oh he's just someone who came from a weaker team, or what can an Asian guy do? But I also felt their obvious change of attitude as I continued to perform well. The experience has helped me mature as a person and I now know how to deal with those situations. If I were to experience this competitive atmosphere in the AHL with the same mindset as my first year overseas, I don't think that I would've made it."
Hirano's other dream of representing Japan
Although Hirano was determined to continue proving his worth in the AHL, he had to once again reexamine his career path right before the season playoff, as he was selected to represent Japan at the 2022 IIHF Division 1 Group B World Championship in Tychy, Poland, from April 26th to May 1st. Division 1-B is equivalent to the third tier, and for Japan to get promoted to Division 1-A, a division just below the Top Division, Japan has to win the divisional championship.
Because of the coronavirus pandemic, the Division 1-B championship was to be held for the first time in three years–a long-awaited opportunity for the Japan Team to win the promotion to Division 1-A. And Hirano was feeling a strong sense of responsibility as the ace on the Japan Team when they had lost the opportunity at the last championship in 2019.
If Hirano wanted to focus primarily on his NHL dream, quitting his AHL team at a time when he is receiving positive reviews would be a great risk. Others would have chosen to continue building their career in North America, and his decision to leave for the Japan Team would have been considered ridiculous. However, Hirano thought differently. "I thought how if the Japan Team failed to be promoted, then I would have to wait even longer to fulfill my other dream of representing Japan in the Olympics. The more I thought about it, the more I couldn't think of any other way than to accept the offer to represent Japan in the divisional championship."
As his participation in the preliminary round of the Beijing Olympics held in February 2020 has shown, Hirano has the power to bring his teammates together and boost their motivation. If joining the Japan Team meant that he could contribute to bringing victory to the team, then he would not hesitate to join again. And hence Hirano terminated the contract with Abbotsford and joined the Japan Team. "One coach at Abbotsford told me how he's disappointed that I won't be with them in the playoffs but that he looks forward to an even better season in the future with me there. I was really honored to hear those words; it further motivated me to be the leader of my teammates in the Japan Team."
Just as he promised himself, Hirano showed perhaps the best performance in the history of the Japan Team. He won two awards at the World Championships, Most Goals and Most Points, for his record of six goals and four assists over the course of four games. Furthermore, the times when he scored were crucial moments when the Japan Team could really use a goal; there is no doubt that he led his team both performance-wise and mentally. Which is why the Japan Team was all the more desperate to win the promotion so when they lost against Poland in the final match, you can just imagine how disappointed Hirano was. "Losing that final game is something I deeply regret about, so much that I can't sleep at night whenever I think about it. I remember talking with everyone on the Japan Team back at the locker room after the game, how we'd still probably face challenges not just in the rink but in other instances as well, and how we should not forget that we must be the ones to bring some change. It's about time for us to really think about the ice hockey scene in Japan and do something about it, and I'd like to do whatever I can as well."
Cheering on the next generation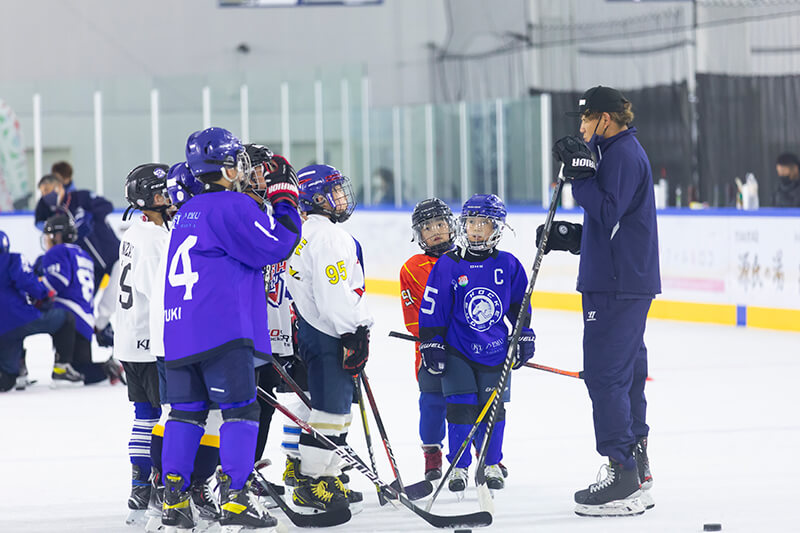 As soon as Hirano returned to Japan after the 2022 IIHF World Championships, he visited ice rinks across the country and taught children how to play ice hockey, another one of his passions: fostering the next generation. "When kids look at me with sparkling eyes, they give me energy and motivation. When you're a kid, getting to know ice hockey players makes you love the sport even more. I know that from experience, which is why I'm hoping for active players like myself to visit these lessons more often and inspire children across Japan."
Hirano was also actively promoting the sport during the World Championships in Poland, sharing about his teammates in the Japan Team through social media and posting video clips of practice sessions and conversations. "I thought about what I could do and with the help of my teammates, I decided to share whatever I could. I think it's important to get as many people as possible to learn about us, so I tried to show them our personalities and passions. Which is why my videos include things that are quite personal as well so that people can relate with us and hopefully support the sport as well. I hope to involve more active players and increase opportunities for children where they can interact with top players and learn about how they play ice hockey."
The message that Hirano wishes to convey the most is, "Be the kind of person who can decide which path to take on their own." This is because Hirano has also made the decision to go overseas to pursue his dream. "Ice hockey is the kind of sport that allows you to build a habit of thinking on your own, because you must always decide whether you should pass or shoot, or whether you should take offense or defense. I think the sport allows you to know about yourself. I talk about my experiences to children because I want them to grow up into responsible individuals who can make their own decisions. And after they listen to me, it doesn't matter if they choose to pursue a different sport or profession. I just hope that their choices in life would help them achieve their goal, allowing them to dream and envision their future, and that they'll be able to pave their own paths with their own effort."
Ever since Hirano became a professional ice hockey player, there is one thing that he has always told children whenever he met them in schools. "I tell them, 'I look forward to playing with you in the Japan Team.' Because I know that these are the kind of words that they'd remember. These days I tell them, if you want to play in the Olympics together, it'd be 2030 by the time you know it.'"
Preparing for the upcoming season
While playing in the AHL and the IIHF World Championships last season, Hirano noticed how he has successfully trained his core muscles and physical strength to withstand aggressive play among international players. He also realized how his shooting technique as well as his other skills have also improved to be deemed as NHL-ready. "Even if I choose to lose weight a little to increase speed, I'm confident that I'll still be competitive enough among international players. During this off-season I would like to focus on speed and agility training then return to North America like a whole new person, faster and stronger."
As Hirano goes through rigorous training in Japan, he continues to rely on his daily intake of Sun Chlorella A Powder. The next season starts in September. Whether he returns to Abbotsford or joins a different team depends on the contract; nonetheless, he aims to bring his condition to peak level by September so that he can start right off at his best. "As soon as I return to North America, I know that every single day would matter since the start of the main training camp, so I need to be able to perform well as soon as I get there. When I left Abbotsford, one coach who was usually strict told me, 'I've seen many players who came back to AHL perform well since the playoffs and got called up to play in the NHL. I don't know whether we'd be on the same team again, but make sure to train yourself well and come back so that you could be like them too.' These words and the fact that he told me that have become a great source of confidence for me." Now more than ever, Hirano is determined to open those heavy doors to the NHL and shine as the first Japanese forward.