When we interviewed him last August, Taiga Okada was eager to make his third season in Spain a defining year in his basketball career, full of ambition and determination to reach new heights (see here for previous interview). And just as he anticipated, it became his breakthrough year as he signed his first professional contract to play in Liga EBA.
In the second half of this interview, he shared with us how Spain views Japanese basketball, his thoughts on playing on the men's national team in Japan, how he led his team to victory this season as well as the kind of improvements he made, and lastly, his determination to soar even higher in the next season.
Taiga Okada flew to Spain by himself at the age of fifteen and continues to pave his own way in the basketball powerhouse in Europe. To the eyes of someone who signed a professional contract in his third year to play in Liga EBA, the fourth division in the Spanish basketball league system, how does the current Japanese basketball scene appear?
Taiga Okada: I watch B.League games quite a lot and their level is really high. There are many players who used to play at Liga ACB, EuroLeague, or even the NBA–top players that anyone in Spain would know–that are now playing in Japan. I think that being able to play alongside them are helping Japanese players to grow a lot, and I'm happy to see that a good environment is starting to develop in Japan.
Okada immediately mentioned Matt Janning, a star shooter playing in the Kawasaki Brave Thunders and formerly affiliated to a famous team called Baskonia in Spain. Okada then proceeded to mention Sebastian Saiz of Alvark Tokyo, the last season's MVP and Spain's national team candidate, as well as Nick Fazekas and Pablo Aguilar of the Kawasaki Brave Thunders. Because every one of these players are all stars that Okada's teammates know about, they cannot help but show their surprise as they ask him, "What? They're all playing in Japan now?" Their reactions are proof that there are amazing players now gathering in Japan's B.League.
Taiga Okada: In terms of Japanese players, of course there's Yuki Togashi, but personally I'm curious about Takumi Saito. You can see that he's a creative player who makes unexpected moves, for example in how he makes passes that leads directly to a score. Obviously, I learn a lot from watching him play, but honestly, I'd like to play against him and see for myself.
While talking about star players, the passion in Okada's eyes is no longer that of a hopeful junior player, but of a competitive rival, as if his gaze is fixed on his seniors walking ahead of him on the same path that he is determined to take.
There was also a slight change in his thoughts on becoming a member of the national team. In the previous interview, perhaps because it was held right after the Tokyo 2020 Olympics, he expressed his excitement about how he hopes to stand in the same place as Yuta Watanabe and Rui Hachimura. This time, however, he spoke in a relatively composed manner, analyzing about where he stands and what he should do
Taiga Okada: In both Zentro Basket Madrid and our opposing teams, there are members as well as candidates of the national team in each age category, Spanish as well as those from other countries. Although my hopes of playing on the Japan team one day hasn't changed, I'm trying not to think about it too much for now. I need to be successful in Spain first. I need to get better and move up to higher divisions in the league system. If I continue to play well, I think I'd definitely have a chance. Positive reviews in the league you play is pretty important and so far, not only my teammates and my coaches but also the owner of our club is praising my performance, contribution to the team, and my attitude towards practicing.
Receiving positive reviews would allow Okada to continue building his career in Spain, and eventually the Japan team would be inclined to add him to the team. He understands that, for now, he must keep doing his best and prioritize on producing good results. It was a pleasure to witness his growth, as the idea of becoming a member on the national basketball team seemed to have changed from a childhood dream to a goal that he must work towards as a professional athlete.
To be both a team player and a game changer
As for the kind of player Taiga Okada aspires to be, we remember him mentioning "basketball IQ" and "a player who leads his team to victory" in the previous interview. Basketball IQ, according to Okada, is about whether you have good judgement, an important quality especially as a point guard who gives directions to his team. "Should I show off my skills and score a point all by myself?" "Or should I draw the opposing defense's attention and pass the ball to my teammate?" These are the kinds of decisions that Okada is frequently pressured to decide in an instant, while keeping track of the flow of the game, his team's formation, and the defense position of the opposing team. The rather heavy sense of responsibility will follow him around as long as he continues to play basketball as a point guard. Which is why Taiga Okada talks about how he needs to establish a clearer set of judgement criteria.
Taiga Okada: When trying to grasp a situation or deciding what moves to take, I think that the important thing is to identify a decisive moment in the game, when a single move can drastically change the flow of the game. They may be shots that determine whether your team wins, or a simple pass that frees the team from a tough state and boosts their motivation. For example, when your team is only one point behind but having a hard time to score, scoring the next point would shift the entire flow of the game. However, when your team misses that chance, horrible things can happen like the opposing team suddenly making three-point shots in a row. There were many times especially in the Liga EBA games when I missed some shots and failed to make passes and because of that I made our team lose. In games where I was successful, we won. That's what I mean by "a player who leads his team to victory" and top players can all do that.
New goals for the next season and the emergence of a new rival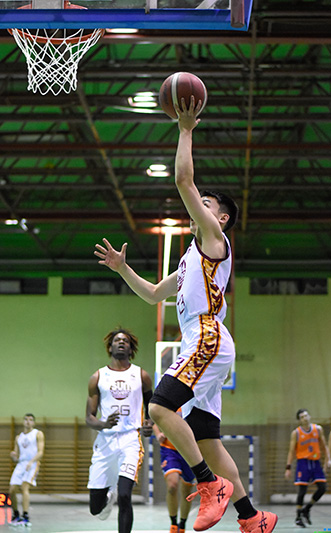 Taiga Okada was only 15 when he flew to Spain to study basketball with a junior team. Then, at a young age of 17, he was promoted to a team in Liga EBA, the fourth division in men's professional basketball. Breaking down the walls that no Japanese player was able to pass beyond, Okada is now about to start his fourth season in Spain.
According to Okada, he does not know which category he will be playing in the next season as of now. His top priority is to continue playing in Liga EBA and further build his experience: earning more playing time, showing a better performance than the last season, and winning the trust of his coaches and teammates. If he can accomplish them, he might even be promoted to Zentro Basket Madrid's top team in LEB Plata (third-tier league).
Taiga Okada: There are over 70 teams in Liga EBA, which is actually made up of five inter-regional groups. There are teams in other provinces such as Barcelona and Catalunya as well; however, the group with Madrid teams is especially competitive. Out of the 16 teams, perhaps the top five teams are as strong as LEB Plata teams. Our team was about 12th place in our group, but when we played a practice game with the strongest team of a different group, we won by as much as 20 points even though we were missing two starting players. There's quite a difference in the level of basketball depending on the group. I do feel that the owner and the people in charge of scouting are aware that I'm producing good results in a competitive group.
Being able to assess his own skills by playing against famous experienced players was possible because he played in Madrid league, a competitive inter-regional group. Not only did he improve his skills and earn more playing time, but he also felt confident that, to an extent, he proved his worth. Having experienced the tension and excitement that he did not feel in the junior league, high expectations from his coaches and various self-discoveries, Taiga Okada is ready to take a new step further up the ladder in the next season.
On a different note, there is a reason why Okada is quite desperate to perform well in the next season: the recent success of his older sister, Raimu. Currently playing on the women's basketball team at Arizona Western College as a student athlete studying abroad in the United States, the best in the world for basketball, her team went to the quarterfinals in the NJCAA D1 Women's Basketball National Tournament. She was earning a substantial amount of playing time and performed well under the pressure of winning consecutively. Needless to say, Okada cheered for her and was happy for his sister's major accomplishment. They kept in touch regardless of the distance between the U.S. and Spain with the Atlantic Ocean in between. According to their father, Takuya, the two hardly talked at home, but became closer as they shared their thoughts on basketball and their similar experiences of playing the sport abroad. While supporting one another as family, the best rival turned out to be their sibling, the one person that anyone would hate losing to. Perhaps by the end of next summer, we will be able to witness these young Japanese basketball players with the same family name shock the world from Spain and the U.S.