Third-year student Takeuchi, the current club president, was already a brass band member in junior high and was initially planning to enroll in a different SHS with a strong brass band club. She decided to attend Kyoto Tachibana Senior High, however, after she happened to watch their brass band perform. The other three all shared the exact same experience of being inspired by video clips and live performances as junior high school students, as they uniformly shared that their motivation was their dream to play in the same band one day. Rather than to improve oneself, Kyoto Tachibana SHS Band inspires young hearts in a way to join them and perform together. What were their first impressions of when they first joined Kyoto Tachibana SHS Band, the band that they admired?
Takeuchi: I remember how it felt like a dream when I first played with the band, like I couldn't believe that I was a part of it.
Kihana: I was just blown away when I first watched the older students perform right in front of me. Then anxiety kicked in and I became worried whether I could keep up with practice. Honestly, it was quite a wake-up call for me, that I needed to practice hard.
Nakajima: Me too. I was worried if I could keep up when I first joined the club. But as I played together with the members, I was able to turn my anxiety into motivation, that I should work hard no matter how challenging it is.
Noguchi: I knew about Kyoto Tachibana Senior High through television and video clips, and I guess my admiration towards the band was rather naïve and shallow until I joined the club. I got to see with my own eyes how much they gave their time and energy into so many things that I could have never imagined. I was shocked—yes, that was my first impression. It woke me a sense of determination that as a new member of the band, I should give my best too.
All four members were overwhelmed, or perhaps even slightly devastated, when they first joined the high school brass band of their dreams. They were all able to immediately bounce back, however, and naturally became dedicated to practice hard every day and not hesitate to put in the work.
To sound better means to better yourself first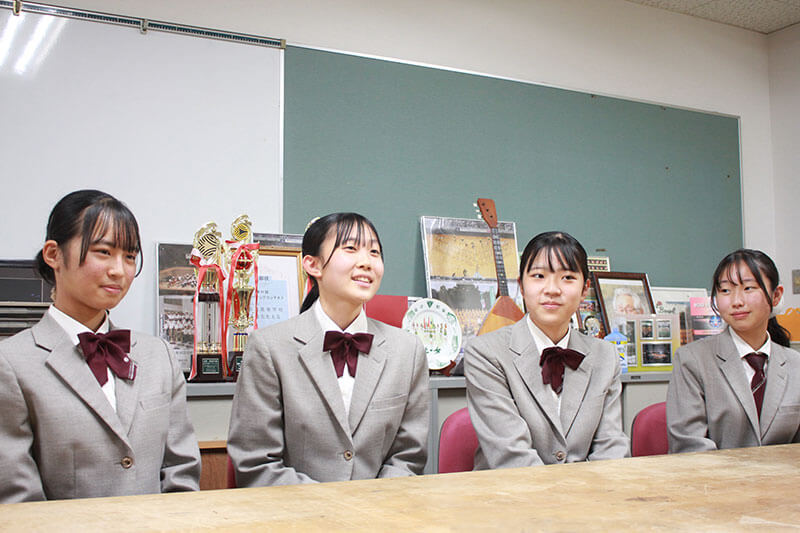 As they began their journey of playing with Kyoto Tachibana SHS Band, what were some of the improvements they were able to accomplish?
Kihana: I really feel that I was able to grow as a person. When you greet someone, for example, it's not about simply uttering the word 'hello' but it's about saying 'hello' with an intention to convey my emotion to that person. Or, when you go about your day and put your shoes neatly together or clean the room; rather than just getting the task done, why not think about why, how, or where to clean? It's about broadening your perspective and trying to be thorough in doing some of the most basic things in life. Joining the band has helped me learn how important that is.
Noguchi: For example, even if I played well in a performance, the band as a whole may not have done so well, and the same goes the other way around. I am now able to proactively communicate with my bandmates no matter our age differences and help each other. I think that's how I grew a lot.
Nakajima: When I was in junior high, my life and my problems were all I could handle. But playing wind instrument music at Kyoto Tachibana Senior High has helped me to care about what others are doing and how they're feeling. I think that's what I improved the most: looking out for others and paying attention to them.
The reason why Nakajima mentions about caring for her bandmates is perhaps because of her recent appointment to be the next club president of Kyoto Tachibana SHS Band. She is now observing how Takeuchi, the current club president, does her job and is learning the importance of looking after the entire club with a wide perspective—one of the crucial leadership skills that helps build teamwork and a sense of unity to play wind instrument music and march in synchronicity. Takeuchi has worked especially hard to create an atmosphere where all members can respect and appreciate one another. She has hoped that members would still like the club even during tough times. Which is why she has encouraged older members and younger members to go home together and not just hang out with members of the same grade, making time to do things together outside of club activity hours, to bring all club members together regardless of age differences. Their friendly atmosphere achieved through continuous effort is perhaps what makes Kyoto Tachibana SHS Band unite as a team and perform in synchronicity.
Takeuchi: Needless to say, it's important for us to deliver performances that audiences can enjoy, but over these three years I was especially aware of growing as a person. Mostly because Mr. Kaneshiro taught us that our performance is a reflection of our human nature.
Team bonding in Taiwan and new friendships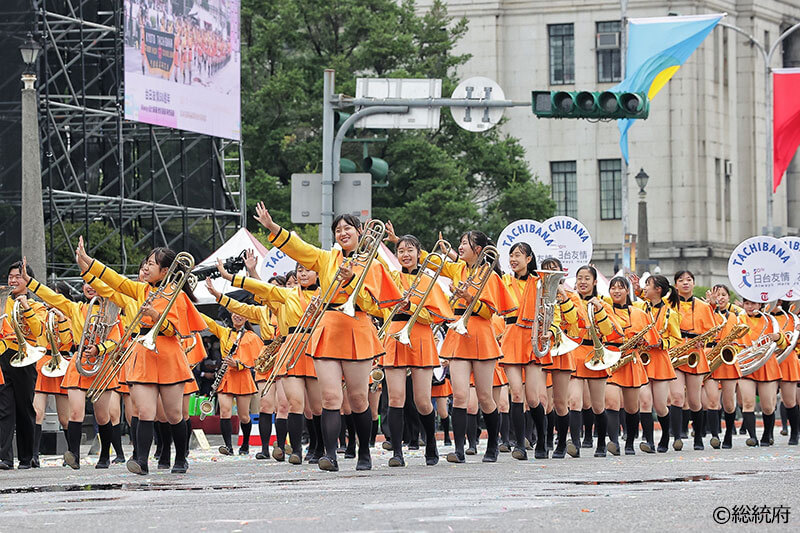 The four band members participated in the Chinese National Holiday parade in Taiwan, where they were praised by the people, local media, and even by the President, Ms. Tsai Ing-Wen. They felt that the reaction they received from the audience were very expressive in Taiwan. Hearing cheers like "arigato" and "ganbare" in Japanese and the audience clapping in mid-performance allowed the members to really feel the crowd's positive energy and a sense of unity that they were enjoying the same moment together.
Takeuchi: I am genuinely happy that our performance in Taiwan was seen by many people around the world. On the other hand, I also learned that there are various opinions about wind instrument music and marching brass bands in general. Which is why I thought once again that I wish to perform in a way that amazes everyone, no matter their opinion, so that they all agree that our performance is worth watching.
Noguchi: There were way more people in the audience than I expected, and I was really nervous. I'm grateful that I got to be a part of a once-in-a-lifetime opportunity. Performing in the parade is definitely a valuable experience, but we also had a chance to get together with Taiwanese high school students and play music with them, which was also memorable.
Nakajima: Even though we don't share the same verbal language, we told each other about our feelings through body movements and hand gestures. Talking about music with them was truly a worthwhile experience for me as a person.
Leading the band as a drum major, Kihana gathered the most attention in Taiwan. She agrees that getting to know the local students in Taiwan allowed them to further expand their view of the world.
Kihana: The time that we hung out with Taiwanese students who are my age and working hard like we do would definitely have a positive effect on my life in the future. Despite our language barriers, I was encouraged to find out that we were thinking the same way. And because we could not communicate with words, I found myself becoming more empathetic as I was imagining what they were thinking or feeling. We are keeping in touch with them even after we returned to Japan, so I hope to continue building relationships beyond country borders.
The four members all agree that not only are they practicing to be better performers, but they also strived to grow as a person, which is perhaps why they were able to soak up their experiences in Taiwan other than music. They have been practicing their people skills through their club activities and learning the importance of communication and relationships, which they were able to exhibit in the real world through concerts and overseas events, adding to their list of memorable life experiences. These experiences are what makes them increase their inner depth and grow fuller as people, which would eventually show in their performance. This positive cycle is perhaps what makes Kyoto Tachibana SHS Band so special.
A blend of uniqueness: the sounds of Kyoto Tachibana Senior High
The brass band club integrates music, which is a cultural aspect, and marching, an athletic component. Club activities not only focus on musical skills, but also incorporate core training, exercises to build stamina, and massages with the help of medical trainers and marching coaches. Naturally, the members are also careful about eating habits and physical conditioning. When band director Kaneshiro first introduced Sun Chlorella, it was just something new for the members to give it a try, but today, all four interviewees drink the supplement every day.
Nakajima: There was a time when I wasn't at my best and it happened to be when I forgot to drink chlorella. Ever since then, I make sure to drink it every day.
Kihana: I'm not the only one in my family who drinks it, everyone is.
Sun Chlorella is a supplement that many professional athletes also take. The fact that the members are feeling the benefits of the supplement despite their young age proves how tough their daily practice sessions are. If their characters are reflected in their music, so are their physical conditions. If their fatigue shows through their performance, perhaps they won't be able to delight the audience. Our final question for the members was: As a member of Kyoto Tachibana SHS Band, what are you most aware of when you perform?
Nakajima: Our music is not about our individual performances. We perform the way we do because of our members, each and every one of us. That's what I'm aware of every day when I play music with them.
Noguchi: I'm especially careful about listening to the sounds of other members and capturing the intention of the drum major. If someone next to me makes a slight change, I try to pick up on it and react to it. And to cooperate, which is what I think is most important.
Kihana: This year I often take the drum major role because it's my third year, and I've felt firsthand that the band really plays differently depending on how I conduct the band. I was able to find joy in playing wind instrument music together with my band members.
Takeuchi: I'm the same way with these three too; my sound makes only a portion of all the sounds played by the band. But if you put it the other way around, the sounds of Kyoto Tachibana Senior High will be missing a piece if my sound wasn't there. I hope to make a crucial part of the band to deliver the wonderful sounds of Kyoto Tachibana Senior High that moves the hearts of our audience. That's what I keep in mind all the time.
While emphasizing the beauty of each sound, the sounds together create a harmony that makes their music come to life. Fresh and beautiful, the ensemble resembles a bouquet of Tachibana (citrus native to Japan) flowers, which is perhaps why they appear to shine brighter as a group. The captivating performances of Kyoto Tachibana SHS Band is perhaps epitomized by its harmony and oneness.
After their return from Taiwan, their talent seemed to have increased even more as they won the Gold Prize at a national marching contest. Band director Kaneshiro says, "We were awarded the Gold Prize last year as well, but many schools withdrew last year because of the coronavirus pandemic. They were able to participate in the contest this year, raising the level of the contest so much higher. President Tsai of Taiwan has sent a message of encouragement to us, and people from not only across Japan but from all over the world have supported us and rooted for us, so I'm relieved that we won the Gold Prize."
Having received wide acclaim for their performance in Taiwan and winning the All Japan Marching Contest for two consecutive years, a lot is going in the favor of Kyoto Tachibana SHS Band. Takeuchi would soon pass the baton to Nakajima as the next club president, and the role of drum major would be handed from Kihana to Noguchi. The first steps to kick off the upcoming academic year is already starting. Fans across the world are all ears to find out what their next prelude may open to.