Taiga moved to Spain by himself at the age of 15 and played in the junior category of Madrid's prestigious Zentro Basket Madrid(Centro Basketball Madrid) before making his professional debut in EBA 4 division at the age of 17. He grew larger than a year ago and after playing a full season as professional and gaining experience, he's now a mainstay player who leads his team to victory.
At the age of 19, he has already been established as main figure in the Spanish League for three years in total, and what is his assessment of his 2022-2023 season, which was huge leap forward to him with his elegance?
Taiga Okada: Until last year, I had a lot of orders from coach for game making, but this year, in addition to game making, I am now clearly required to play in a way that makes team win. For example, I am expected to perform in a way that directly leads to scoring points such as shooting and executing passes to a teammate who can then make the shoot. They especially want me to nail it during crucial moments, whereas last year, I was rarely allowed to play on court during moments like the last three minutes of a game. I've been able to be one of the five players on court during those definitive moments in every game this season, so I have more opportunities to finish well and make our team win.
As a point guard, Okada is naturally expected to not only score points, but also to work effectively by being a team player, communicating with his teammates and gaining their trust, and maintaining a fighting spirit on court. Okada feels that he has reached a point in his career that these are all basic qualities that are expected of a professional player. In fact, in games where he played a crucial role in the team or was able to play in the way he wanted to, his own stats were up and the team was winning, as the numbers clearly showed. Needless to say, it remains to be seen whether he can keep that up at a higher level of the league. But for now, to some extent, Okada has achieved his goal of becoming a lead player who wins games, which he has always wanted to do.
More skills, deeper mind-body connection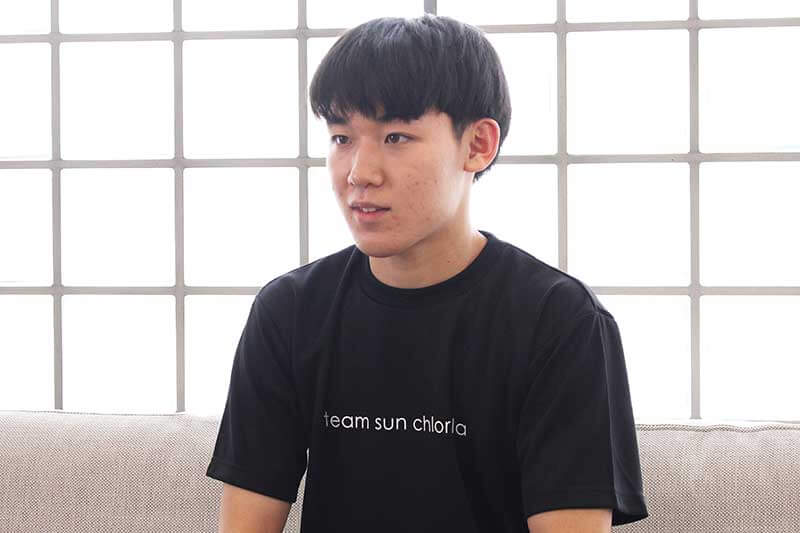 What technical skills did Taiga Okada improve exactly? According to his own analysis of himself, he now seems to have a greater variation in his passing skills.
Taiga Okada: I feel like I've improved a lot on pick-and-roll passing. Our team coach is also the head coach of the Spanish national team, so we get to play in the same style and approach, researching before each game such as what passes are effective according to the opposing player. Which is why I've been able to practice new passing skills for each game, trying them out in the actual game and gaining experience, leading me to develop my range of passing skills which is also an aspect I improved a lot.
Okada's physique has grown as well, although he is still in his teens and has yet to fully mature. When he first flew to Spain at age 15, he was 167 cm tall and weighed 55 kg, and today, he is now 174 cm tall and weighs 66 kg. Okada has previously said how he feels the need to build his physical qualities, and he has spent a year of intensive workouts after every practice session, committing to an hour-long weight training five days a week. He feels that his persistence has paid off especially during games, where he plays against international players who are much larger in size compared to his Japanese counterparts. Okada Taiga, who just moved up from the junior category , is no longer defeated by European professionals who are overwhelmingly larger than him in a competitive scene this year, which is not like a previous year.
However, the young star was only 18 years old. There is no doubt that the past year has been a difficult year both physically and mentally. He learned to discipline himself by never uttering the phrase "estoy cansado" (which means "I'm tired" in Spanish) since he did not want to worry his team and also to avoid himself from admitting that he felt tired. Instead, he used a different expression, such as "I spent a lot of energy." This was his way of acknowledging and verbalizing his physical fatigue in a way that saved his mind from feeling tired and causing a negative effect on his mental wellbeing.
Meanwhile, Sun Chlorella has always been there to support Okada's efforts in managing his physical wellbeing. He usually drinks Sun Chlorella Powder A mixed with milk once a day with his breakfast of bread and eggs, but he also drinks it at night when he "spent a lot of energy" at a game. We witnessed in person his high level of self-management as a top athlete when he came to the office and approached a nutritionist whom he had sought dietary advice in the past. He actively sought for advice on his current diet and nutritional intake. Okada's self-motivation to crave for more is probably one of the secrets that led him to his success.
Aiming higher in his last season as a teen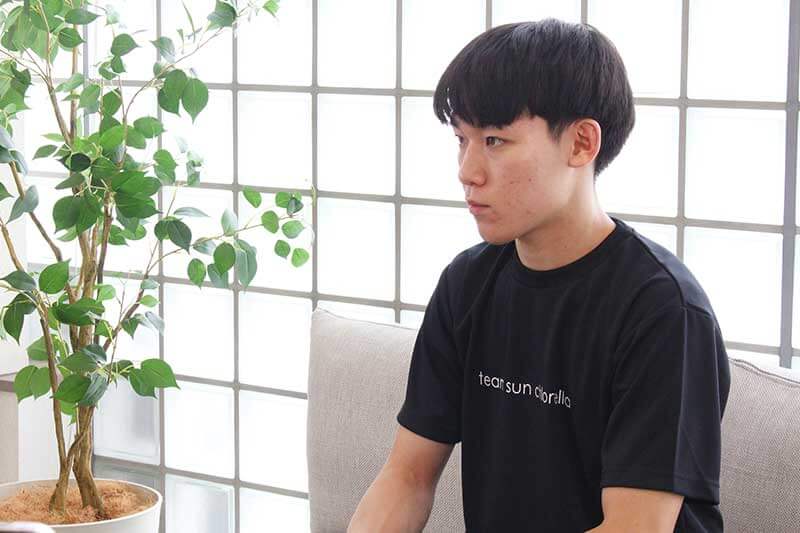 Taiga Okada's mind, technique and body have all improved greatly compared to last year in the 2022 -2023 season, but of course he also has found many issues to work on as he aims to reach even higher levels. For example, it is difficult to keep up a good performance in every game constantly. There was a time during the season when the team lost five games in a row, and here's how he felt.
Taiga Okada: Four of the five games we lost in a row were close games, and we could've won some if I had only scored once in certain moments. There were also moments where I wonder why I didn't take the shot and instead relied on my teammates. That's the mindset I would like to work on: never hesitate to take shots and to nail that shot. Even if my teammates think that I'm a bit too aggressive, as long as I make that shot, it means that I made the right choice. That's what professional basketball is. Which is why I believe that I need to be more decisive from now on.
Taiga Okada's team, Zentro Basket Madrid,(Centro Basketball Madrid) is mainly composed of younger players and there are few veterans. There have been times when their youthfulness became a disadvantage during win-or-lose moments, or when they lacked the skill and experience to change their mindset successfully, resulting in an unexpected string of losses. Although the team was not doing so well, Okada was not afraid to communicate actively with his older teammates to demand the level of play he was looking for. He strived to share his ideas by initiating honest and positive discussions. At the same time, he also realized the importance of practicing alone.
Taiga Okada: One day, when I was worried about how our team was doing and told my father about it, he said, "In the end, it's about you." He's so right and it made me feel so much better. I decided to spend more time to practice alone, and I was naturally asking myself things like, 'What did I do wrong?' and 'What could I have done better?' These private solo drills made me concentrate on my thoughts to find solutions on the issues I had. After that, I no longer felt lost."
A single shot or a single pass that Okada makes can possibly improve game flow and bring momentum to the team. And once the team is on the right direction, the young players have the potential to produce positive results at once. Okada has witnessed that throughout the season. In the world of professional basketball where results are all that matters, he is still a teenager but is entrusted with the responsibility to lead his team to victory. Although Okada admits that he still has room to grow, the fact that he feels somewhat unsatisfied despite his growth and significant progress this season is a testament to his determination.