Minoru Suzuki is an extraordinary fighter who has conquered countless pro-wrestling and MMA rings since his pro debut in 1988. Even at 52 years of age, both domestic and international pro-wrestling promotions continue to approach him with deals—hence his tireless days of preparing his motivation and maintaining his physical fitness for his next match. For an athlete as driven and focused as Suzuki, what was it like when sporting events and games were cancelled due to the coronavirus pandemic?
A man of his words, Suzuki makes no excuses and continues to challenge himself day after day. But he did have his moments of doubt, pain, and contemplation over the years. 2002 was probably the most difficult year for him, when his track record was showing poor results due to his injuries while he was affiliated with Pancrase, an MMA promotion that he established. He even considered retirement. "I thought about quitting many times—but I couldn't, because the dream that I had since I was 15 hasn't come true yet." As a junior high school student, Suzuki had promised his family that he will one day be a pro-wrestler like the legendary Antonio Inoki. If so, hasn't he achieved his dream already?
"I became a pro-wrestler alright, but to be exact, my dream was to be the 'king of the world.' I thought I was still far from my goal—and decided to turn my back on my fellow fighters, fans, and friends who gave me advice, and instead go back to pro-wrestling. When you're trying to do something new, the people closest to you are ironically the ones who can drag you down. Family, lovers, colleagues, friends—they tell you that you're fine the way you are, that you're okay. They make you want to stay. That's why my only choice was to intentionally ignore them and get away. And when you continue ignoring them, they eventually go away from you, realizing that I won't listen no matter what they say to me. Everyone told me how 'people won't normally do that' or 'generally speaking, what you're doing is wrong.' But what's normal? What's ordinary? People go, 'I aimed for 100 percent, but I decided to take the ordinary route and I ended up with 70 percent.' How boring of a life is that? Can you really be happy with yourself, being such a goody-goody? I get bored talking to people like that anyway. And I'm the guy who aims for a billion percent instead of a hundred! I still get hateful comments, but I ignore them. I think of how petty they are, and I get over it. What's more important to me is pursuing my passion. And the more praises you get along the way, the more negativity you also get. Interestingly, if you try fixing the things people hate about you, you end up getting fewer praises too."
Ditching a stable life to open up new horizons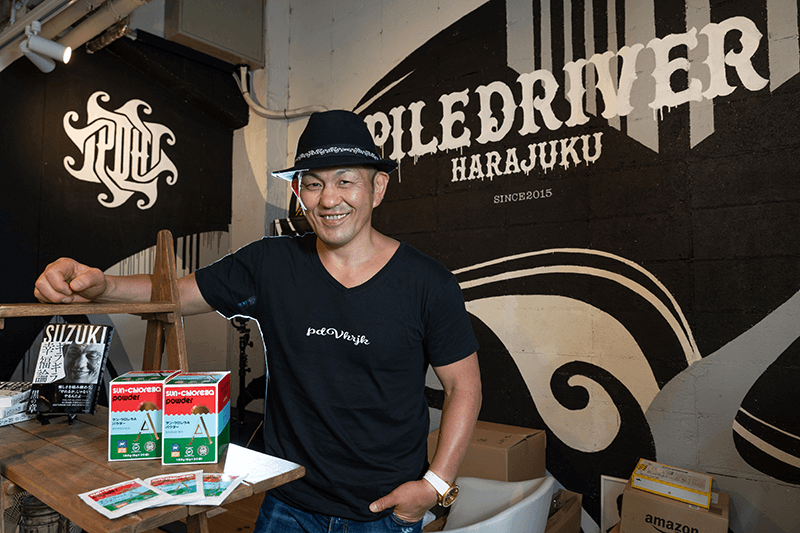 Since his comeback to the pro-wrestling ring in 2003, Suzuki fought with many promotions including New Japan, All Japan, Noah, and independent promotions overseas. "I went all over the place because every time, I was so inspired to discover things I've never seen before," says Suzuki with a smile.
"I turned 52 last week. Honestly, I almost feel insulted when people tell me how well I'm doing, considering my age. My body is stronger, I have more experience, and my opponents are getting younger and younger! I'm determined to become even stronger too. If you're weak after you reach 50, then that's simply because you haven't tried enough. And I want to be living proof that age doesn't matter. Oops, did I just say that?"
Although nobody knows when the coronavirus pandemic will come to an end, Suzuki's eyes gleam when asked what his future goals are. "In the weeks when we were all expected to stay home, I saw some news and footages of Mike Tyson. He was fighting a match in an event hosted by All Elite Wrestling, a new pro-wrestling promotion in the U.S. Watching him fight got me really excited and I thought, I would love to fight against Mike Tyson! He's a little older than me, so he must be like 54? You know, games between fighters of different combat styles are much more exciting now compared to 20 years ago. I've fought two matches against Maurice Smith, the best kickboxing champion in the 20th century, but I've never fought against a boxer before. My opponent will be wearing gloves, while I fight with my bare hands. Seems fun, right?" Looking forward to his dream match against Mike Tyson, Suzuki is hopeful and determined as he continues his conditioning workout every day. His eyes are fiercely focused on that throne of "the king of the world"—and we have yet to witness his best performance.