Ran Takahashi is now one of the most popular names among anybody who's even slightly interested in the Japanese volleyball scene. With his outstanding performance and charming looks, the Generation Z player has fans all over the world. Garnering worldwide attention especially since his performance at the Tokyo 2020 Olympics, this first half of the interview with Ran reveals his experience of being on the Japan Team for half a year as he reflects on 2021.
When the Tokyo 2020 Olympics was held after a year's delay, the festive sport event sparked some joy and excitement to a rather static, uncertain, and pandemic-stricken world. For Ran Takahashi, 2021 turned out to be far beyond his imagination. It was his second year on the men's national volleyball team, playing international matches for the first time during the Nations League in May and June. And not only was he selected as one of the 12 players for Tokyo 2020 but was also in the starting lineup for all their games, leading the Japan Team to the finals for the first time in 29 years.
"I don't know how to say this, but Tokyo 2020 meant so much more than a dream come true. Seeing how our opponents were so spirited and determined to achieve good results at the Olympics, I felt that I needed to up my game and be more serious about volleyball. Playing on the Japan Team has also made me realize my lack of skills," Ran reflects.
Ran began establishing himself as a major volleyball player in the previous year when he was a third-year student at Higashiyama High School, bringing home their first victory at the "Spring Tournament" (All-Japan High School Volleyball Championship). Soon after, he was recruited to the Japan Team for his high level of performance at the tournament. And despite that the national team may have had fewer practices and games than usual due to the pandemic, he still contributed to winning second place at the All-Japan Intercollegiate Volleyball Championship. Ran was still in his freshman year of college at the time but played in the starting lineup. He was already starting to build his track record of success, but did he ever imagine that he would soar even higher in 2021?
"I did imagine myself playing in Tokyo 2020. The one-year postponement gave me a better chance and I knew that it was up to me to raise my game and be selected. However, I had no idea that I would go so far as to be in the starting lineup in every match, playing on the opposite of Yuki Ishikawa (Allianz Milano) in the rotation."
Perhaps due to his persistence and positive outlook on the postponement, the success that Ran achieved were greater than what he expected. On the other hand, he was also aware that the one-year delay turned out to be a disadvantage for other players. "The amount of pressure and responsibility that I felt for being granted the opportunity to play at Tokyo 2020 was quite tremendous," he recalls.
Practicing self-care to pull through tight schedules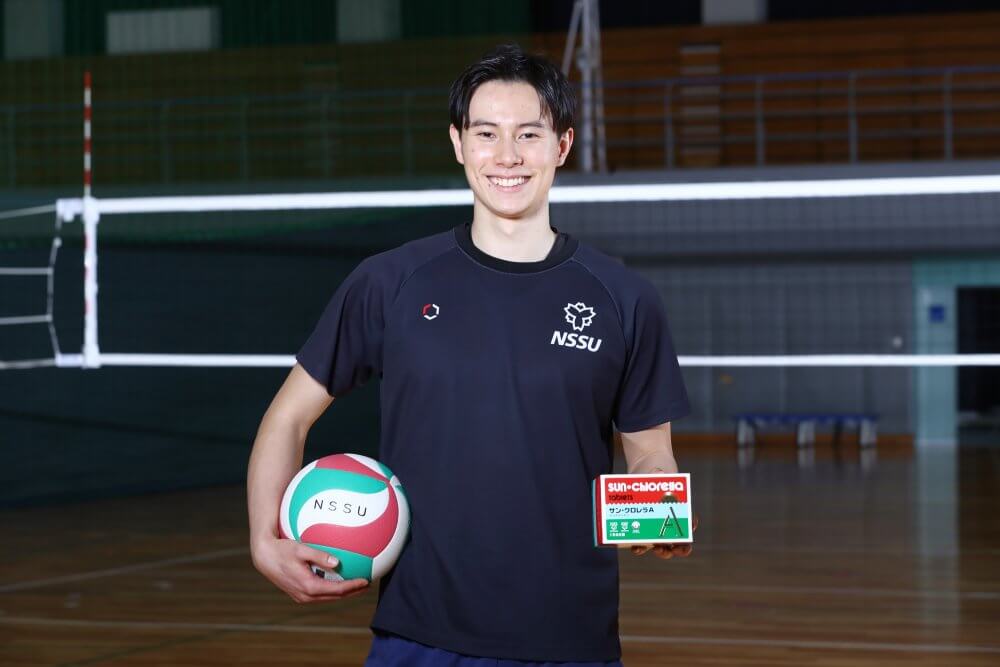 Playing on the national team can get tough. Ran Takahashi has played in three consecutive games for five times during the Nations League, a total of six games every other day during the Olympics, and then seven games with only one day off in the middle at the Asian Men's Volleyball Championship in September. "It's difficult to maintain my performance when we have to play so many games one after another. There's also not enough time to work out, so I start to lose my muscles too," says Ran. When he's on a tight schedule like that, he pays extra attention in maintaining his daily rhythm and especially his mental wellbeing. "I've come to think that even if I think too much on days when I did bad, I won't find any answers until I do well at the next game. Then I think about why it went so well and what I did differently compared to those bad times. I learned to think this way while I was playing in the Nations League."
To maintain his positivity, Ran also sticks to a dietary habit: his daily intake of Sun Chlorella. "I rely a lot on Sun Chlorella. Taking the supplement allows me to feel confident of my nutritional intake and be fully prepared to perform well the next day. They're especially handy when I'm overseas and having a harder time to eat properly." For Ran, who takes his eating habits very seriously, Sun Chlorella seems to be an essential part of his daily routine.
Touched by words of gratitude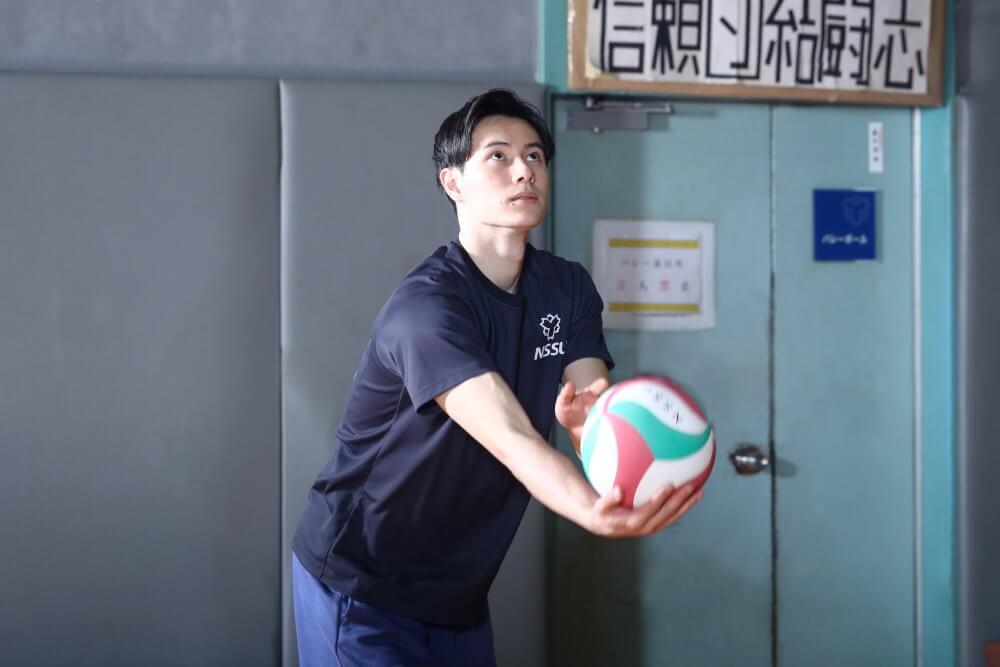 Steadily on his road to stardom, Ran Takahashi has a lot of fans around the world. There are over 900,000 followers on his Instagram account, making him one of the most popular volleyball players in Japan. Naturally, he received a lot of messages and comments from his fans while he played in tournaments. They were all encouraging, but the phrase that made an impression on him the most was "Thank you". He reflects, "I received a lot of messages that wished me luck before the games started, but during the championships and after the games ended, I received a lot of Thank-yous. I mean, there are times when we say 'Thank you for cheering us on' but I feel like it's not that common to hear people thanking us. I'm just a guy who plays volleyball, but our fans have taught me that I can inspire them and move their hearts. The Thank-yous really boosted my motivation and encouraged me to work harder." The words of gratitude from his fans helped him stay motivated which was hard to keep during the pandemic when games were held without an audience. They let him realize that by playing volleyball, he can make an impact on the people who watches him play.
The time spent on the Japan Team was both inspiring and demanding for Ran, who was faced with challenges at times but also achieving success along the way. After six months of being away from home, he returns to the college volleyball scene for the first time in a year.