He skillfully receives the ball served by the opponent. He swiftly changes his posture from his ready position, largely steps forward into the court, and raises his hands as he effortlessly jumps in the air, hitting the ball in the blink of an eye. His name is Ran Takahashi, the ace of the Higashiyama High School team representing Kyoto Prefecture in the Spring High School Volleyball (All-Japan High School Tournament) held in January 2020. In the final match, his outstanding performance led his team to their first victory and was personally rewarded with an MVP title, scoring 26 points, hitting percentage at 0.649 and serve receive percentage at 0.875.
All eyes were on his incredible performance way beyond his years, in addition to his charming looks. He is the new star of hope in the Japanese volleyball scene. He is recognized for his high potential and while he was still a high school student, he was selected to join the Japan men's national volleyball team this last February.
Winning the Spring High, joining the national team, playing in the Olympics—these are the things that Ran Takahashi has always dreamed of and he is accomplishing them one by one. Rui his older brother, has played an essential role in his life as his friend and his rival since they began volleyball. The first half is an interview with Ran, the younger brother, reflecting on the Spring High.
The final match of the Spring High School Volleyball was held on January 12th, 2020. Higashiyama High School (Kyoto) won against Sundai Gakuen High School (Tokyo) by a straight win without losing a single set during the entire tournament. A new definitive chapter was added to the history of Japanese volleyball.
"It was the first Spring High to every member on the team, including us third-year students. It was our first and last opportunity to shine. We didn't know what to expect, like how the atmosphere of the tournament feels like, or how to fight through consecutive matches—so, as challengers, we fought like we've got nothing to lose. Now that I think about it, it was probably better for me that it was my first time because if I'd gone there during my first or second year of high school, I probably would've felt that extra pressure. Game after game, I got comfortable with the atmosphere and the venue, and my performance was improving too."
Higashiyama High School won their ticket to compete in the Spring High for the first time in six years. Kyoto Prefecture, where only one team can participate from, is one of the most competitive prefectures for high school volleyball teams. Rakunan High School (Kyoto), the school that always stood in the way of Higashiyama High School, is in fact the previous winner of the tournament.
Their rivalry has a long history. Rui (currently affiliated with Nippon University), Ran's older brother by two years, and their seniors have had to hold back their tears while Rakunan continuously advanced to the Spring High instead. Knowing how their seniors felt like, the Higashiyama High School team was determined to win that national title.
Fiscal year 2019 was the year when Higashiyama High School, with Ran Takahashi as the ace of their team, gained public attention in the world of men's high school volleyball. They have met the public's expectations by upping their game, ranking third in the Inter-High School Sports Festival in the summer and winning the National Sports Festival of Japan in autumn. Higashiyama High School was more than ready to fulfill their long-cherished dream of winning the Spring High.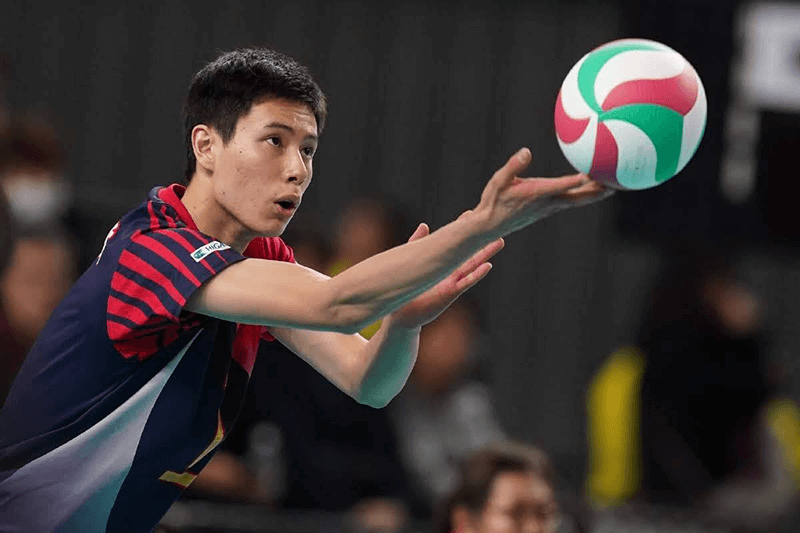 The Spring High School Volleyball tournament opened on January 5th. Standing on the orange court bearing the hopes of their seniors, Higashiyama High School swept the tournament from their first match, never losing a single set even against big-name teams from across the country.
"National tournaments are fun because you get to play against all these different teams. I felt more pressure at the prefectural finals in Kyoto because we had to win against our rival, Rakunan High School. At the nationals, it was more like we were excited to be there."
Despite that it was his first time playing at such a major event, Ran Takahashi indeed showed no sign of fear or hesitation, but simply seemed to enjoy the challenge of playing against strong opponents.
Not to mention the fact that he practiced hard to prepare for this tournament. Higashiyama High School not only intensified their volleyball drills, but also focused on increasing their stamina to win through the vigorous tournament schedule of playing six matches over the course of five days for that national title.
"We trained with the assumption that we'll have to play a full set in the final match, so our agenda was how to go all out from our first set while not using up our energy and maintaining a good performance. We used training equipment, incorporated circuit training and all sorts of routines. We trained to increase our endurance, speed and instantaneous power. Although our bodies gradually got tired by the third set before we started with these routines, we had enough strength to fight through by the time the Spring High opened."
In addition to increased stamina, their minds were also trained. Higashiyama High School is known for training volleyball players to "think and play" on their own. Under head coach Mitsuhiro Toyoda and coach Rio Matsunaga, a Higashiyama graduate who has coached Yūki Ishikawa when he was head coach at Chuo University, the high school's traditional focus on "receiving and passing" combined with world-class tactics led the team to their first victory.
"We customized our tactics according to our opponents instead of tossing the ball around without a plan. As a result, we played in a way that efficiently narrowed down our focus."
In the final match, Sundai Gakuen High School made a bold move and switched many of their players in the second set, but Higashiyama remained calm. They predicted the match against Sundai Gakuen to be a close game, since many of their players are tall, but Higashiyama ended up sweeping Sundai Gakuen with a straight win and not handing a single set over to their opponent. The moment when Ran Takahashi's spike scored the winning point, his teammates ran towards him in the center of the court and burst with joy.
"Our victory didn't really sink in right after our final match was over. But as people came up to us to congratulate us, the joy of it all finally kicked in. More than six months have passed since the Spring High, and my life has changed 180 degrees. For that, I'm truly grateful we played at that tournament."
In the press conference after the final match, Ran spoke with determination: "My dream is to be an international player. And to be one, I need to be a much better player by working on my personal challenges I discovered through this tournament." His performance in the Spring High was received well, leading him to join the Japan men's national team for the first time.
"People have told me it's better to vocalize your dreams, and I also believe in aiming high. The Tokyo Olympics scheduled next year is not my end goal, but rather one of my ambitions. I need to evolve as a player step by step, because I believe that I can accomplish them if I get better. I'm determined to improve. Practice makes perfect, so my daily efforts would eventually lead me to fulfill my dreams."
At the national team's training camp, Ran trained with Kunihiro Shimizu and Tatsuya Fukuzawa (both affiliated with Panasonic), both players that he and his older brother Rui cheered for when they were in elementary school, as well as Yūki Ishikawa who currently plays for Italy's Serie A.
"Their approach was completely different, like what we're supposed to eat every day. We were told to take care of ourselves on a daily basis, exercising before our volleyball practices in order to prevent our bodies from injuries—we took volleyball really seriously. Having spent some time in the same training camp, I have a whole new perspective now. My seniors Shimizu-san and Fukuzawa-san have shared with me their experiences, and my chat with Ishikawa-san about international volleyball was very inspiring. I felt like I got a lot of tips and ideas on how to pursue my career."
Watching his seniors continuing to aim high, Ran is eager to catch up with them someday. Seems like Ran hit another major crossroads at the national team's training camp.
Pledging further success with his receiving skills that he acquired from his childhood years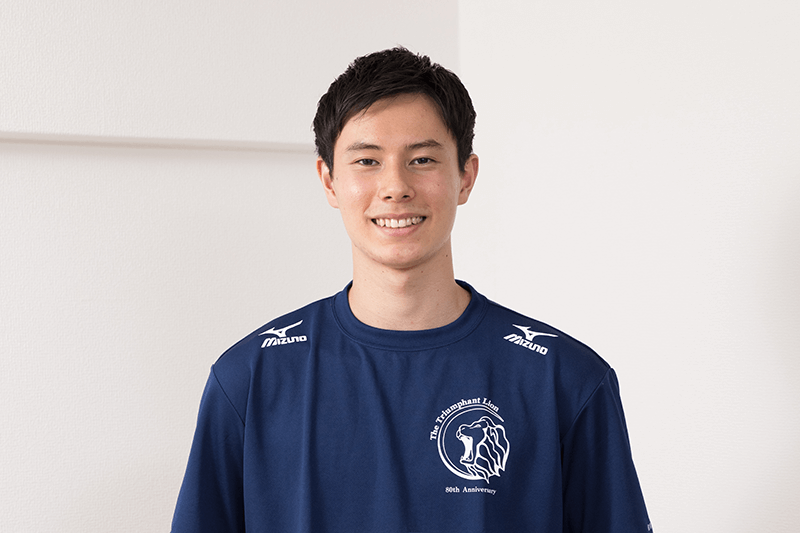 Ran Takahashi not only plays offense well, but is a well-balanced player whose defensive skills are also top-notch. Following the steps of his brother into playing volleyball, he was the short kid on the team and naturally practiced his receiving skills all the time. His height did not grow as much even in junior high school, and he played as a libero on the same team as his older brother, who was the team's ace.
"During elementary school I received balls all the time, so to me, that's how it all started. I've actually always enjoyed digging because it feels great to stop the opposing team from winning a score. Including my serve receiving skills, my receiving skills define who I am as a volleyball player."
Not only can Ran receive a ball, but he can also kill it. In volleyball, an ace with defensive skills naturally becomes the team's pivotal figure, expected to be highly capable of receiving, spiking, blocking and serving. For Ran, his day of becoming the ace of the Japan men's national team may not be so far off. He is a student of Nippon Sport Science University since this spring, having started a new life in Tokyo and away from his hometown of Kyoto.
"I envisioned that in college, we're expected to be independent and have high standards as athletes. I chose Nippon Sport Science University because I wanted to move to the Kanto region and also focus on keeping up with my physical fitness."
Ran looks forward to play against his brother, who is now enrolled in Nihon University. Needless to say, one of his goals is to lead his college volleyball team to win a national title.
"Because of the pandemic, league games in spring and autumn were both cancelled (to ensure the safety of players, games that follow new guidelines are scheduled in autumn instead of the usual league games), so winning the All Japan Intercollegiate Volleyball Championship in December is now one of my major goals. My team is working hard to win it. Right now, we're in the middle of building our team spirit."
Having settled in his new environment, how would Ran mature as a volleyball player? When Ran first began volleyball, he jumped around the court with joy every time he made a successful dig. That little boy has certainly accomplished many of his dreams, and yet he is still in the middle of his journey. He will not stop until the day he wins them all.