Japanese volleyball player Ran Takahashi returned to Japan in April 2022 after building up his experience at Italy's Serie A, one of the best volleyball leagues in the world. The young volleyballer's ambitious challenge have garnered attention worldwide. In this first half of the interview, we focus on his playing style that he acquired in Italy and his emotional development in an environment foreign to volleyball training Japan.
Because Takahashi flew to Italy after the Japanese college volleyball season ended, his time at Italy's Serie A was only four months long. Certain that this opportunity caused him to improve by leaps and bounds, he looks back with satisfaction. "I went to Italy because I wanted to get a sense of what it's like to play overseas in a competitive environment. It wasn't just playing on court that made me realize things about my volleyball skills and mindset, but also through observing different players and facing some of the top players in the world today."
Takahashi became especially aware of his calm and composed playing style, how he used to rarely vocalize his excitement even when he scores a point. He admits, "I'm not the dynamic, dramatic type, because I try to keep cool to focus on my performance." However, he changed after seeing firsthand the playing styles of international players who often express their emotions. "I realized that showing your emotions is one way to motivate not only your teammates but yourself, and how it's important to express wisely, whether to play cool or play with passion depending on how your team is doing. This playing style is something I would like to continue being aware of."
In terms of his volleyball skills, Takahashi felt how his serve receive skills are acknowledged as above par. "The head coach and my teammates have told me good things about my form and during practice it was obvious that they wanted to get an ace from me, to break my form even just a little. The fact that their fighting spirit was directed towards me shows how they approved of my receive skills." His guess proved to be true as he was chosen to play libero for three games including the game against Milan on February 27th and the last game of the season.
The difference in mindset as libero vs. bench player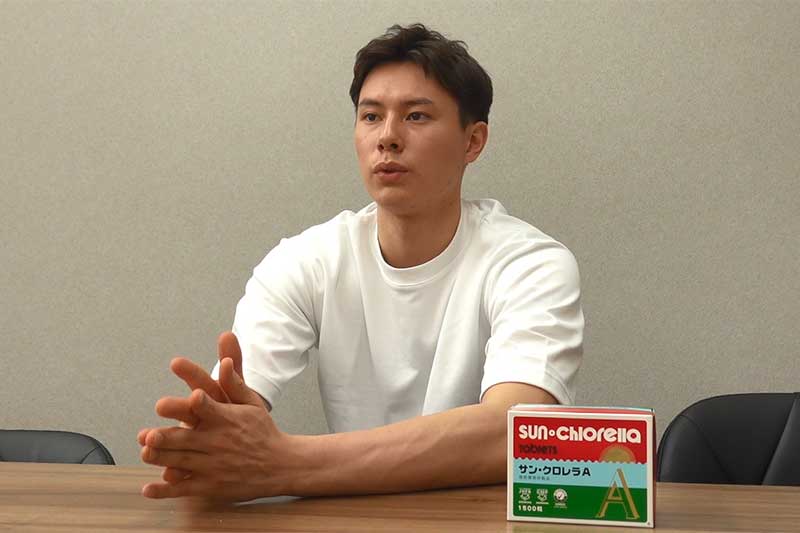 Three days prior to the game against Milan, Takahashi was notified that he will be playing as the libero. Playing the position for the first time since junior high, he felt a different sense of nervousness compared to that as a spiker. "As a libero you specialize in receiving the ball, so you feel responsible whenever you're off-balance or fail at receiving. Spikers score points so that's how they can make up for mistakes, but liberos can't do that. My performance tended to stay poor on days when I couldn't perform well, so I had a hard time emotionally," he explains.
Because he was playing a position that does not necessarily produce visible results, Takahashi was conscious of actively communicating with his teammates to maintain a positive mindset. When his team was struggling, he would give directions to his teammates and increase team spirit. Anyone else can take on that role, but he felt that the libero, as the rear guard, is the most suited position to do so.
In terms of developing a positive mindset and active engagement, Takahashi learned another thing while sitting on the bench, which was difficult for him since he has been one of the main players on his team and often times chosen to be on the starting lineup ever since he began playing volleyball and up until college. Partly because the season has already started when he joined his team in Italy, he could not be on the starting lineup so soon and was instead called to play on the court as a substitute. "I had a really hard time trying to perform on the same level as my teammates as soon as I entered the court. When you're on the starting lineup you can increase your pace as the game progresses, but when you're substituted in crucial moments or win-or-lose situations and you need to immediately exert your best right off the bat, it's hard," he explains.
This experience is also something that may come in handy in the future. Since championships are often times held back-to-back, it is challenging for any volleyball team to continuously play with its best players, which means that there are plenty of chances for substitutes to play on court halfway into the game. While on the bench, Takahashi would imagine himself playing on the court as a way to stay alert and do warm-ups, preparing himself to join his teammates at all times.
On a scale of 1 to 10, I give myself an 8
When asked how he would rate himself in the four months he was in Italy he answered, "To be honest I want to give myself a 10 on a scale of 1 to 10, but I'd say 8. I grew a lot more confident in myself, which will help me maintain a good performance and show leadership. It was an intense couple of months during which I improved both my volleyball skills and physical strength, so I give myself an 8. I'm leaving the remaining two points as leeway because I don't want to be satisfied yet. It represents my ambition to get better."
Coming back from Italy with a whole new set of experiences, Takahashi also shares how he hopes to challenge himself in a different country again to fill in those remaining two points. In the next half of the interview, we get a glimpse of the everyday challenges he faced in Italy.