Ran Takahashi was only 18 when he made an impressive debut in the Japan men's national volleyball team. He moved to Italy in December 2021 after the Tokyo Olympics, and joined the Italian SuperLega team Padova, where he played in almost every game during the 2022-2023 season. In addition to showing outstanding performance on defense, he has also honed his offensive skills by playing against the world's fiercest players. With his charming personality and communication skills, he gets along with basically anyone. He is very popular not only in Japan but also in other regions of Asia and Italy, and always looks ahead to the future, saying, "I hope to get people to learn about volleyball through me. I want to be someone who inspires people." While Takahashi continues to keep up with his daily commitment to maintain his physical fitness and improve his skills, he also strives to spread the fun and excitement of volleyball.
Although Ran Takahashi is currently enrolled in a Japanese university, he mainly plays in Italy. The Japanese national team player just played two seasons with Padova in the Italian SuperLega, the best volleyball league in the world. Most volleyball players in Japan finish their high school or college studies before proceeding to play professionally with teams in the Japanese V.League or overseas. Takahashi's choice to join Padova in the middle of his college years was quite unheard of, but he had his reasons to take the harder road. "When I played with the Japan team against the world, I understood very well what I was lacking," says Takahashi. "After the Tokyo Olympics was over, I had three years until the Paris Olympics. It was only natural for me to raise the bar and compete at a higher level in that limited amount of time. If I step up my game, we'd have a stronger Japan team. I decided to dive into it because I was convinced that I had to challenge myself."
Takahashi was selected for the national volleyball team in the same year his high school volleyball team won the Spring Tournament held in January 2020. Having played libero in elementary school, he was already highly regarded for his defensive skills, an asset that he was chosen for in the first place. Despite the national team's initial expectations of him, his offensive skills were amazing as well. Furthermore, the one-year postponement of Tokyo 2020 turned out in his favor and gained him his position as the outside hitter. In the Summer Olympics finally held in 2021, he contributed to the Japan team's first top eight finish in the past 29 years.
Takahashi's remarkable achievement at the age of 19 won him great popularity and recognition—despite his fame, however, he remained focused with his eyes set on the future. Determined to become a stronger player, he flew to Italy to challenge himself. He played all throughout last season from the start in October 2022 to the end in May 2023. "When I first came to Italy in 2021, I joined the team in the middle of the season, so it was hard for me to even compete for a position. I thought to myself, 'Next season, I'm definitely going to start from the beginning,' and in fact I was able to play in games from the beginning until the end. I gained a lot of confidence because of that."
When Takahashi first joined Padova in the 2021-2022 season, he focused on himself and worked on his offensive skills. In his second year, however, he had a broader perspective. "I used to be the youngest member on the Japan team, so I relied on my seniors. But having played the entire season in Padova and competing among the best in the world has given me confidence, and I'm also confident to say that I played through the season as the lead player of the team. That's exactly what's required of me as a player on the Japanese national team, so I think that my experience and growth in Padova helped me better myself."
Improved communication with better language skills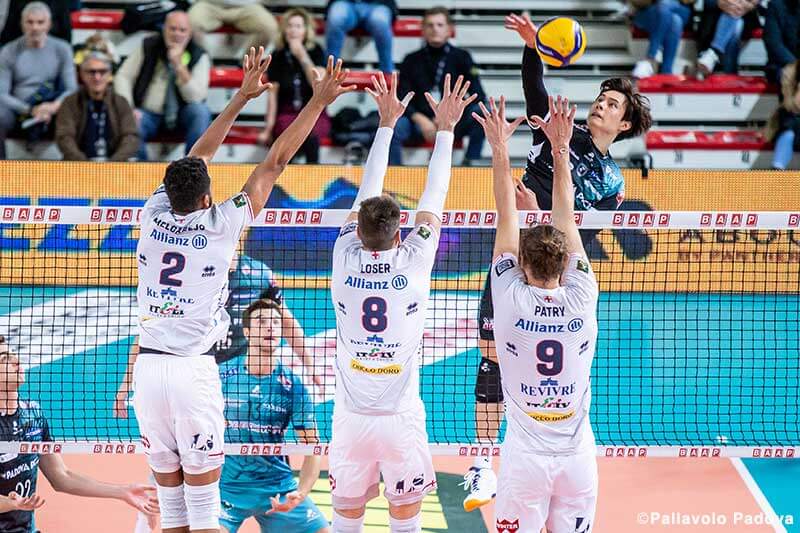 The Italian Volleyball League is where players gather from all over the world, and naturally, many languages are spoken. Although the main language spoken is Italian, Takahashi also cares about communicating with players who speak other languages, such as English and Spanish.
While volleyball players in Japan tend to acknowledge themselves as being shy and introverted, Takahashi is the complete opposite. He is friendly and easily gets along with the people around him. Although some find it stressful trying to adapt to life in a different culture, he first learned English to communicate with his peers and make himself feel at home. He uses an app to study English every day, even if that may be for only five minutes, and tries out new words and phrases in real life. His language skills quickly improved in an environment where he could immediately apply what he learned.
"I think my English improved a lot compared to last year. I could only speak in broken English with Philippe Blain, the head coach of the Japan team, but this year I'm more fluent and have a larger vocabulary so it feels great. I also started learning Italian, and although it's hard, I'm beginning to understand a little more of what the coaches and players are saying, so I think that means I'm getting better."
When asked if he also excels academically since he studies every day, he smiled wryly and said, "It's not like I enjoy it. I'm good at concentrating on things that I like, but I tend to put things off if I'm not that good at it (laughs). I was the exact opposite when I was in elementary school though, finishing my summer vacation homework as soon as it started. Now, I can be the laziest person you'll ever know (laughs). The same goes for studying. I didn't mind studying English, but when I did, it was only to get a decent test score, so I used to pull an all-nighter the night before the test. Thanks to that, I'm good at last-minute cramming (laughs), but because of that, I realized that I didn't have any knowledge of the language at all when I went to Italy."
Takahashi is now able to fluently communicate in English with his teammates, and he also enjoys chatting with local fans in both English and Italian. "Some fans have told me, 'You're the best player in my opinion' and I am honestly happy about that. There are people of all ages and genders, and some people come all the way from Japan and other Asian countries. I still remember the excitement and elation of meeting my heroes and getting their autographs when I was a kid, and I used to dream of becoming a volleyball player just like them. That's why I want to be as attentive as possible when I interact with my fans, and I also want to be someone who inspires people to chase after their own dreams." Ran Takahashi may be living his dream, but he still has a burning ambition to aim higher.