The greatest asset of every athlete is their body. No matter how excellent their skills and extensive their experiences may be, an athlete must have the physical capability to exhibit them. Ran Takahashi was faced with this reality countless times when he went to Italy, one of world's volleyball powerhouses. Which is why he focused on training, sleep, and nutritional intake from food. Life as a professional volleyball player has not only improved his volleyball skills, but also gained him better cooking skills, nutrition knowledge, and the fulfillment of having a deeper connection with his own body. Ran Takahashi continues to establish himself as a professional volleyball player, all for his lifelong love of the sport. He hopes to become an example for the younger generation and the future of volleyball.
Competing among the best in the world can be grueling. On top of the differences in physical height, power, and techniques, Ran Takahashi also had to get used to traveling frequently for long hours. It is quite common for his team to go back home on a bus after a night game and arrive past midnight. The ability to perform well in an intense environment as such requires athletes to be able to count on their physical wellbeing. Having played two seasons in Italy, Takahashi looks back on how he came to focus more than ever on his body. "I'm one of the short ones in the world of volleyball, so I have to jump a lot, and I also need to be strong to win against my competitors," he says. "I realized that I had to commit myself to not only training and practicing, but also to take care of my body every day if I wanted to keep playing at the highest level."
What Takahashi focused on the most was his diet. He believes in the phrase "You are what you eat" and usually, he cooks for himself to eat a balanced diet as a professional athlete. Although he has never cooked before in his life, he continued to learn day by day, and is now quite proficient. "I set the rice cooker every day so that I can eat rice for breakfast the next morning, with a side of bananas and yogurt. I often go out with my teammates for lunch, so I let loose a little bit, but I'm still aware of eating the right balance of carbs, protein, and vitamins so I tend to eat pasta, meat, fish, and salad. For dinner, I try to make up for what I ate or didn't eat for lunch, so I prepare myself some rice, meat, or usually chicken, and some salad and fruit. That's my daily menu. I eat a lot too. In one meal I eat about 400 grams of rice."
Browsing through YouTube and various recipes online, Takahashi tries out different flavors to enjoy the same ingredients as much as possible. He laughs proudly as he shares about how he can now cook a variety of dishes after trial and error. "I don't just grill chicken. Sometimes I sauté it with soy sauce and mirin, or add spinach and eggs, or stir fry it with broccoli. I also keep in mind to enjoy the whole process instead of thinking of it as a chore. I'm also pretty good at making carbonara, and when I sent a text to Yuki (Ishikawa, who also plays in Italy and is on the Japan team) about that, he wrote back saying how he can make good carbonara too like it's a competition (laughs). I'm sure that mine's better though (laughs)."
Although Takahashi is careful about what he eats, he also remembers to have fun, like having cheat days and indulging in pancakes or going to parties with his teammates. He eats what he wants once in a while because he continues to eat healthy every day, but due to limited ingredients, there are some nutrients that he finds difficulty in obtaining enough from food alone. And that is why Sun Chlorella A is a valuable source of nutrition for Takahashi. "Ideally, I would like to eat more vegetables to get the nutrients I need, but there's only so much I can eat in a meal. I have to admit that I don't eat enough vegetables for breakfast, which is why I take Sun Chlorella A every morning. The fact that I can obtain a wide variety of nutrients in the morning is really helpful to me so having Sun Chlorella A is reassuring."
In addition to eating healthy, Takahashi takes care of himself through plenty of sleep, ultrasound therapy, and stretching exercises. Balance is also key. On days when he has practices both in the morning and afternoon, he takes a half-an-hour nap during his lunch break to rest his body. He also goes to bed by midnight. He turns his lights off about an hour before bedtime, then takes a bath and stretches his body to increase blood flow and improve sleep quality. Although Takahashi's routines may all seem simple, he manages to go through these steps every single day. The fact that he was able to play through an entire season in Italy without any injuries is a testament to his efforts and professionalism.
"I want more people to be volleyball fans"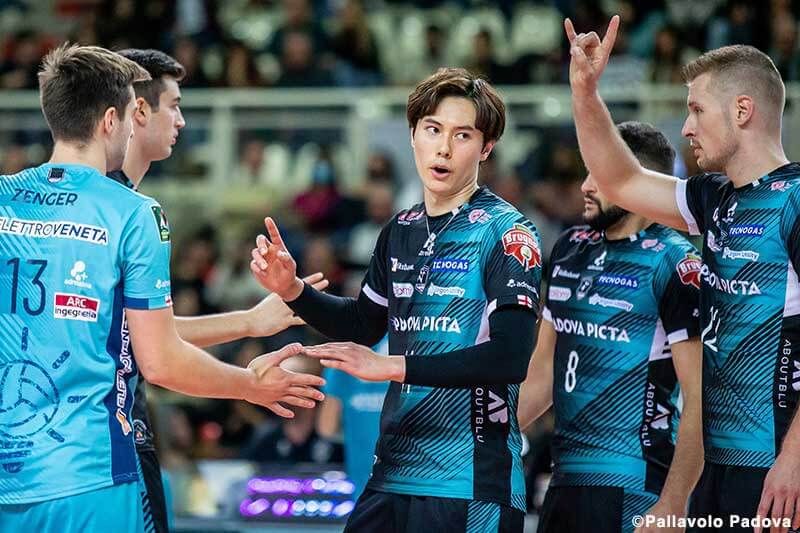 Padova, where Takahashi lived for the past two seasons, is located in northwestern Italy. The beautiful city houses thousands of college students who attend universities such as the University of Padua, founded in 1222, and it is neither too big nor too urban. "For me, it's the most comfortable place to live other than my hometown of Kyoto," he recalls, smiling. "I love my teammates, the people, and the energy at our home games. Everyone in Padova really supports our team and we're all in this together. When we score points, we're all happy, and when we lose points, our fans get angry. Everyone welcomed me and people really loved our team and the community."
This June, shortly after the 2022-2023 season ended, the Italian team Vero Volley Monza announced on their official website that Takahashi would be joining the team for the 2023-2024 season. Although Takahashi is determined to establish himself as a strong player and is steadily achieving his goals, he felt emotional when he had to leave Padova. "At first I've wanted to go back to Japan so badly, but Padova has become like a second home to me and when it was time to leave the place, I felt really sad."
Which is why he is firm about his decision. "I think about wanting to be a stronger volleyball player every day, and I would like to be more proficient in not only receiving, which is my strength, but also in making the next moves to make an attack. I can now proudly say that I've honed both my receiving and offensive skills in Italy, one of the world's top countries to play volleyball, and I'm ready to continue playing aggressively."
In addition to his own personal growth, Takahashi also hopes to contribute to the future of volleyball. "I'd feel really happy and honored if people got to know volleyball through me and watched games and found the sport exciting. It could be watching me play or just because of my appearance. I think that there's many ways to how you can enjoy something, so I hope to get people to know me and discover the fun of volleyball."
If Takahashi hopes to increase volleyball fans through himself, this year is the perfect timing to make that happen. The Olympic Qualification Tournament for Paris 2024 will be held in Tokyo in September. Not only would this be a long-awaited event in Japan, but it will also be broadcasted live on TV every day, leading to increased exposure of the sport. "My first goal is to win the ticket to the Olympics as a member of the Japanese national team. I've played in Italy, so I'm expected to perform well against the world's best and produce results for the Japan team now. I hope to play passionately that's fun to watch and conveys the joy of the game, and fight with a focus on producing results for myself and for the volleyball world."